Make snack time a little sweeter with this carrot cake-inspired, fluffy protein bar recipe!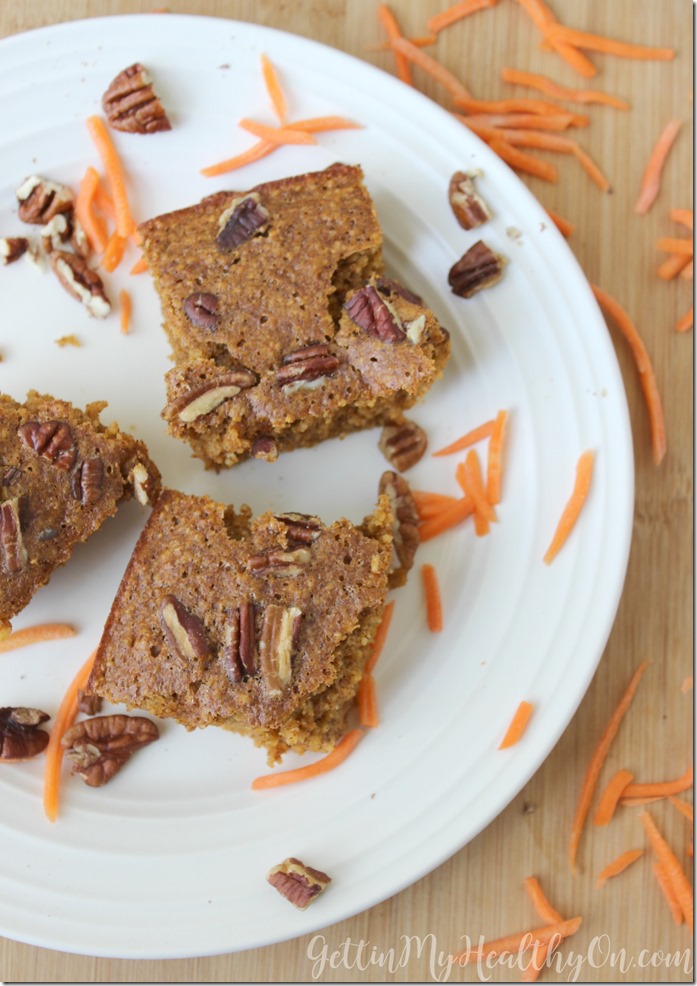 Carrot cake is a dessert I normally eat about…once every three years. Don't ask me why. It's just usually overshadowed by chocolate options, and I don't ever think to make it. With that said, I've been eating it daily for the past week, and I have absolutely no shame.
I shared a lemon protein cake bar recipe last month, and today's carrot cake-inspired version is a similar situation. I've been eating these carrot cake protein bars every day as a mid-morning snack because 1. they're packed with lots of protein, 2. they taste like dessert, and 3. they keep me full between meals. SO much perfection.
This bar recipe was adapted from the LiveFit recipe, which I've found to be a great base, but I wanted to make some little changes to it. Like my lemon protein cake bars, I always double this—I'm pretty sure I've never even made "one batch" of it. However, I know when I'm trying new recipes, I prefer not to waste a bunch of ingredients and effort on a dish I don't know yet if I'll like. So! I've cut my massive batch in half to be more of a "normal size" for you to try out.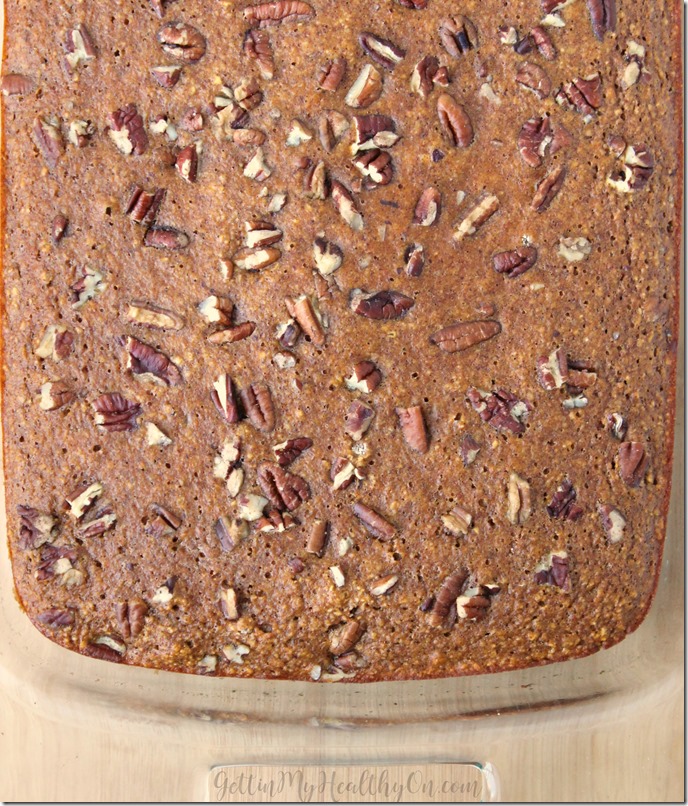 For the record, this is designed to be fluffy yet moist. So if you make it and find it's a bit too moist, just bake it for longer, and it'll continue to dry out a bit more. Also, I highly recommend you add the chopped pecans (or another nut) because this was the first time I've made it with them on top, and it took the bars to the NEXT. LEVEL.
Adapted from the bodybuilding.com LiveFit recipe.
Ingredients:
1 cup oat flour
2 scoops vanilla protein powder
2 tsp cinnamon
1/2 tsp baking soda
1/4 tsp salt
1/8 tsp all spice
1/8 tsp nutmeg
4 egg whites
1/2 cup granulated sugar
8 oz. baby food carrots
3 oz. water*
Optional: 1/4 cup chopped pecans (or walnuts)
Instructions:
In a large bowl, whisk egg whites, sugar, baby food, and water until well incorporated. Set aside.
In another bowl, whisk together flour, protein powder, and spices.
Slowly stir dry mixture into the wet mixture until combined.
Pour into an 8x8 baking dish that has been sprayed with non-stick cooking spray. Sprinkle pecans over the top.
Bake at 350 degrees for about 25-30 minutes, or until a knife can be inserted into the center and come out clean. Let cool.
To divide the bars, cut 3 lines across each side of the pan, creating a total of 12 bars.
Notes:
*Adding the water will make for a more moist bar consistency. You can either omit this or bake them for additional time if you want dryer bars.
Recipe from GettinMyHealthyOn.com
As you may have noticed, this recipe calls for baby food, which might be weird to a lot of people, but I thoroughly enjoy it in recipes these days. It's just so much easier than grating carrots in this, so don't knock it 'til you try it!