Freshen up breakfast or snack time with a cantaloupe bowl topped with Greek yogurt, blueberries, granola, and a drizzle of honey.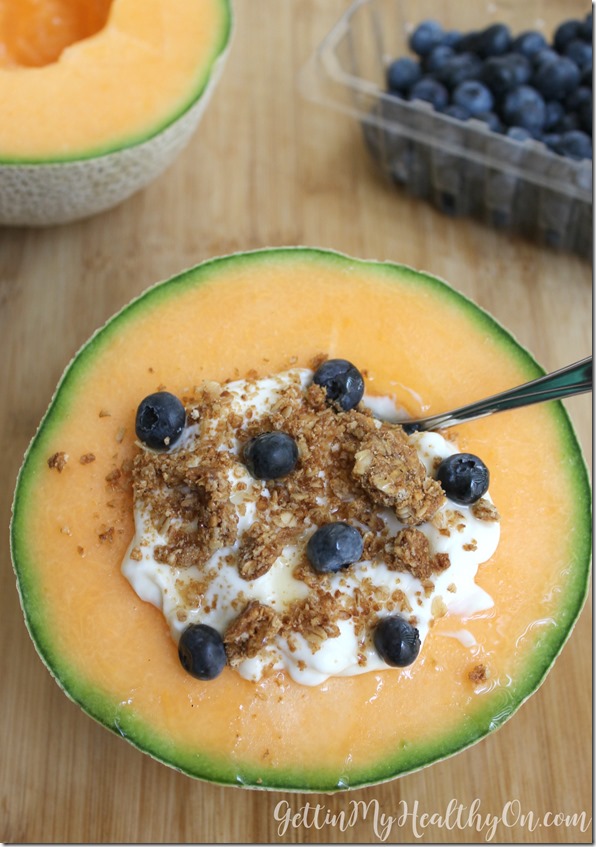 After going on a hike with a few friends yesterday, I got back to our house and was staaarving. You know what's better than breakfast? Second breakfast. So, I was committed to throwing something together to satisfy my hunger and also quench my thirst. There's nothing quite like fresh juicy fruit after spending a couple hours trekking up a mountain in the sun.
Among the many items on my to-make list was the cantaloupe bowl. I've seen this a couple times, and it just looks oh-so-beautiful. It was the perfect time to try it out because 1. minimal effort, 2. so refreshing, and 3. healthy. At first the idea of eating an entire half of a cantaloupe seemed excessive, but I really love cantaloupe, so I quickly pushed that absurd thought out of my mind.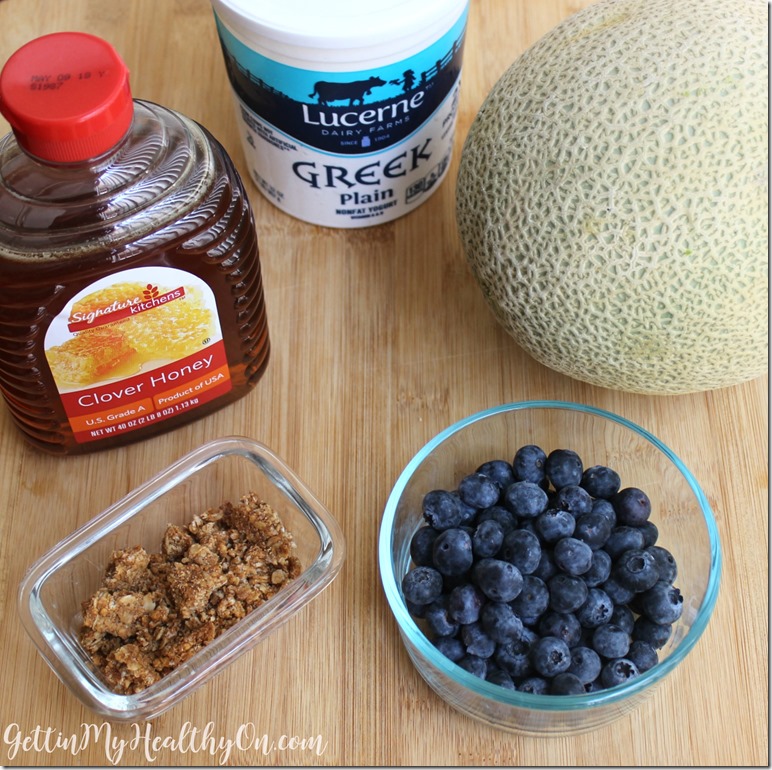 After cutting the cantaloupe in half that I picked up, I spooned out the seeds from the middle. Then I added about 3/4 cup of plain Greek yogurt. On top of that, I decided to sprinkle some granola, fresh blueberries, and a drizzle of honey (to combat that sour taste of plain Greek yogurt, bleh). It was seriously the best combination.
I'm in love with this bowl of fruit and yogurt perfection. I plan to try different toppings in the future because the possibilities are endless. Keeping it pretty basic with granola and blueberries was divine though.
Cantaloupe Breakfast Bowl
Ingredients:
1/2 cantaloupe, seeds scooped out
3/4 cup plain Greek yogurt
2 Tbs granola
8+ fresh blueberries
2 tsp pure honey
Instructions:
Cut small section off bottom of cantaloupe half so it won't roll around. Place core side up on plate.
Pour yogurt into center. Sprinkle granola and blueberries on top. Drizzle with honey.
Enjoy!
Recipe from GettinMyHealthyOn.com
If you're anything like me, don't violently scoop out the cantaloupe. I may or may not have almost flung a piece at one point. The effort is by far worth the sweet taste of the dish though.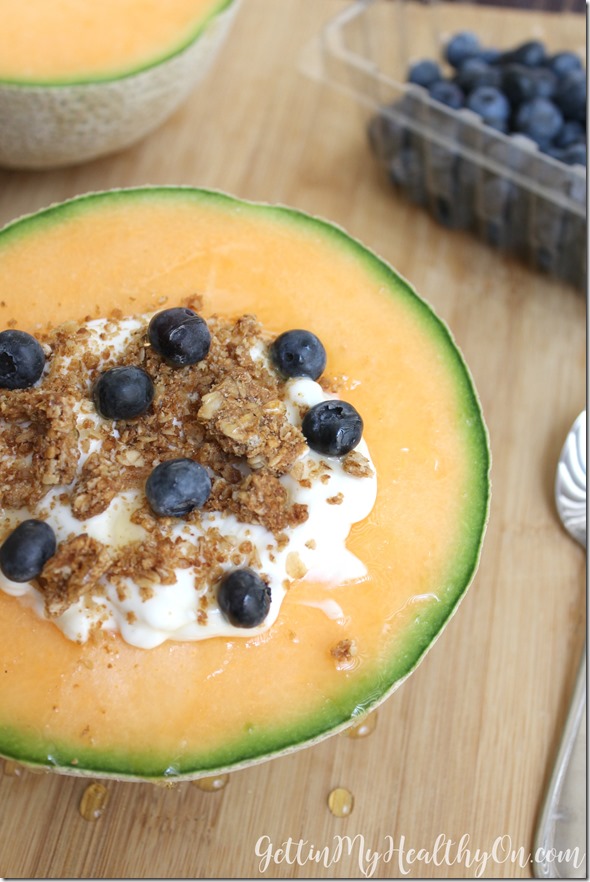 What are your favorite yogurt toppings?
Have you ever made fruit into a bowl of sorts? Matt made me an amazing chicken and rice dish with an Indian sauce and put it in half of a pineapple a few years ago – it was quite impressive. Somehow everything is just better when in a fruit bowl.