Throw this wedge salad together for a super speedy side dish or main entree. Topped with bacon, tomato, feta, and ranch – you can't go wrong with this BLT-inspired salad!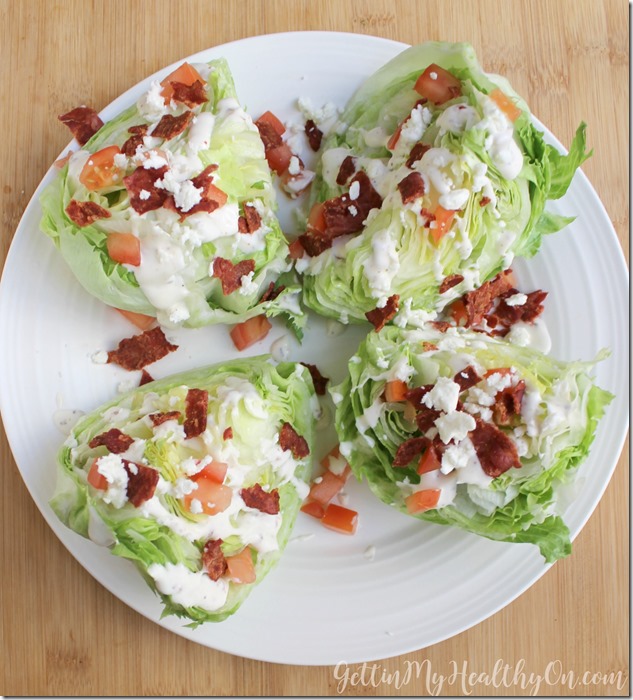 Wedge salads – they're big chunks of iceberg with toppings thrown on top. I've always found this variety of salad to be intriguingly different. While they're basically just a salad but in more of a whole version, they're somehow a nice change of pace sometimes.
For a last-minute addition to dinner recently, I decided to pick up some fresh ingredients to make into a wedge salad. I didn't exactly mean to make it BLT-inspired, but it happened…and it was wonderful. I chose to include fresh tomato, turkey bacon, Greek yogurt ranch, and some feta (though blue cheese would work wonderfully too). Having the three toppings plus classic dressing was a simple yet satisfying blend of flavors.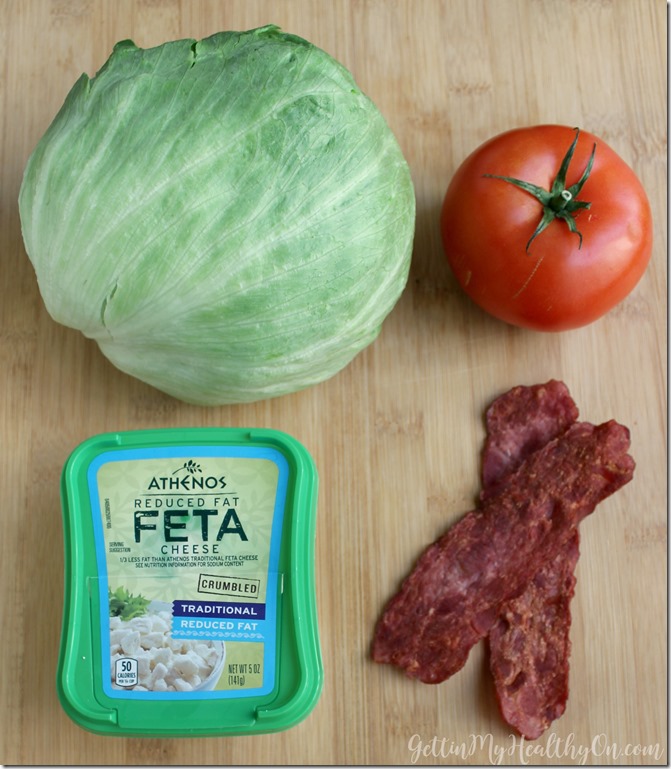 I started by cutting the stem off of a head of iceberg lettuce; then took out my handy dandy chef knife and cut the lettuce into four segments. I laid those quarters core side up on a plate and began the layering process.
The ranch went on first because I figured that would help the other toppings stick and not just roll off the lettuce mounds. Then went the diced tomato chunks, crumbled bacon, and crumbled feta. Voila!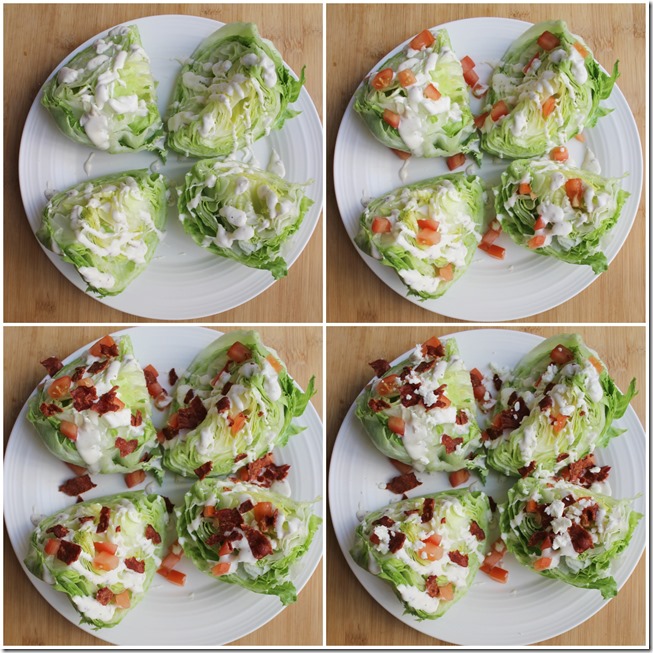 It's clearly very complicated. I don't know if anyone else can master this process.
For a better look at the amounts I used for my four servings of wedge salad, here are the deets:
Ingredients:
1 head of iceberg lettuce
1/4 cup Greek yogurt ranch dressing (or your favorite ranch variety)
About 1/4 cup diced tomato chunks
2 slices bacon, cooked and crumbled
About 1/4 cup crumbled Feta cheese
Instructions:
Slice off stem of lettuce head. Then cut into four quarters. Lay core side up on serving plate.
Drizzle ranch over top of lettuce wedges.
Sprinkle tomatoes, bacon, and feta over top.
Serve immediately.
Recipe from GettinMyHealthyOn.com
What's your favorite type of salad?