Happy Friday! I don't know about you, but I think it's time to end this week on a high note. I'm sharing a refreshing salad recipe I created this past week that features blood oranges as the spotlight.
I grabbed a bag of beautiful blood oranges at the farmer's market downtown last week – aka the Little Italy Farmer's Market. This massive market happens every Saturday morning, and although we've been to a few others in San Diego, this is by far our favorite. It has a huge selection of fresh produce and other items. Plus, they have some amazing vendors selling food (crepes for the win)! I knew I wanted blood oranges from the get-go, but that didn't stop us from wandering around for awhile and taking samples, browsing other items, and picking up a few extras.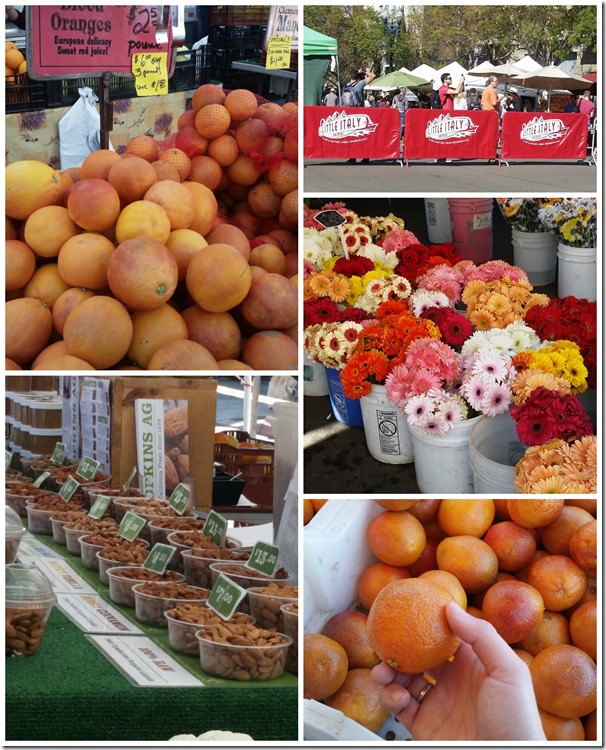 Going to the farmer's market is always a fun experience, whether we need anything or not. Plus, it feels good to buy from local farmers and sellers. It kind of gives you a glimpse inside the huge world of California agriculture.
You probably hear about fruits and other randomness being grown in California, but you may not realize just how important California is for producing food for the rest of the country. For example, did you know The Golden State grows nearly half the fruits, nuts, and vegetables grown within the entire U.S.? Also, apparently California is the top producer of nuts (and grows 100% of the country's almonds). Mind blown, right?!
You don't always think about where your food is coming from, which means you may not realize when supplying it becomes complicated. This past year, you may have learned about California's extreme drought situation. Matt and I have been doing our best to save water when we can, but there's really only so much we can do. (Plus, I'm trying to hydrate like woa, so I need to keep some of that H20 goodness.)
When it comes down to it, though, California's farming and ranching community has to work with what they've got – which wasn't nearly enough last year – so they've been using the most efficient and sustainable methods possible to utilize the available resources. It all relates to Cultivate California. Since these farmer's are in charge of growing the healthy, safe, and affordable foods we're used to in California and across the U.S., I'm more than happy to frequent the farmer's markets and pick up some of the amazingly fresh items.
After returning from last Saturday's outing, I knew I wanted to make a salad with blood oranges as the major focus. I've always loved the flavor and appearance of blood oranges. They're so vibrant and unique! So to begin with, I made a vinaigrette by zesting and juicing one orange (which came to about 1/4 cup liquid) and mixed it with 1/4 cup olive oil, 1 teaspoon honey, 1/2 teaspoon Dijon mustard, 1 tablespoon apple cider vinegar, and then salt and pepper to taste. Just look at that bright red juice from the orange!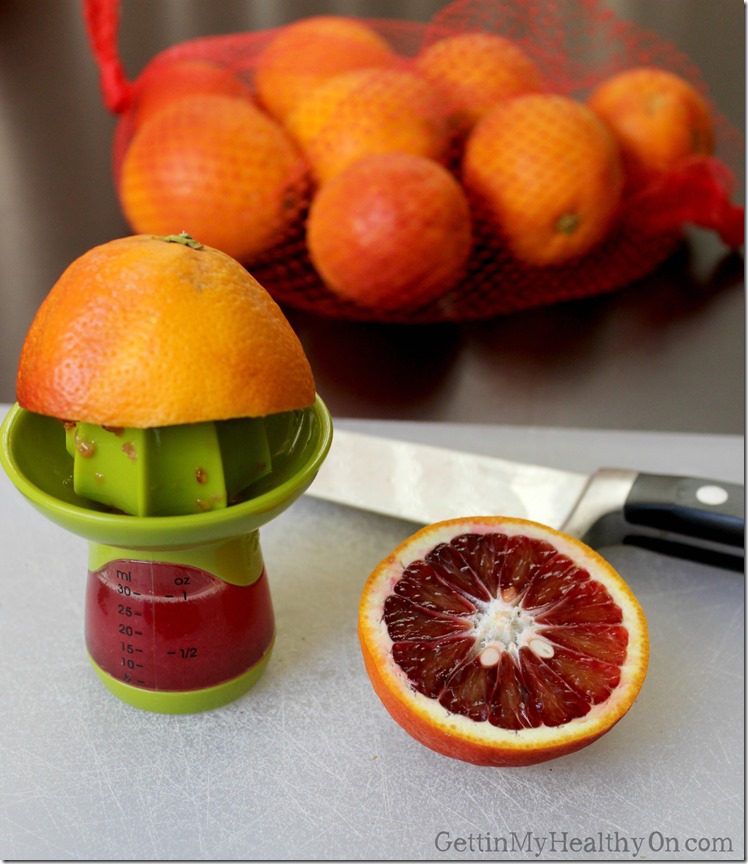 Once the blood orange vinaigrette was complete, I took another blood orange and cut the peel off all sides. Then I sliced it into about 6 sections to place on top of my salad.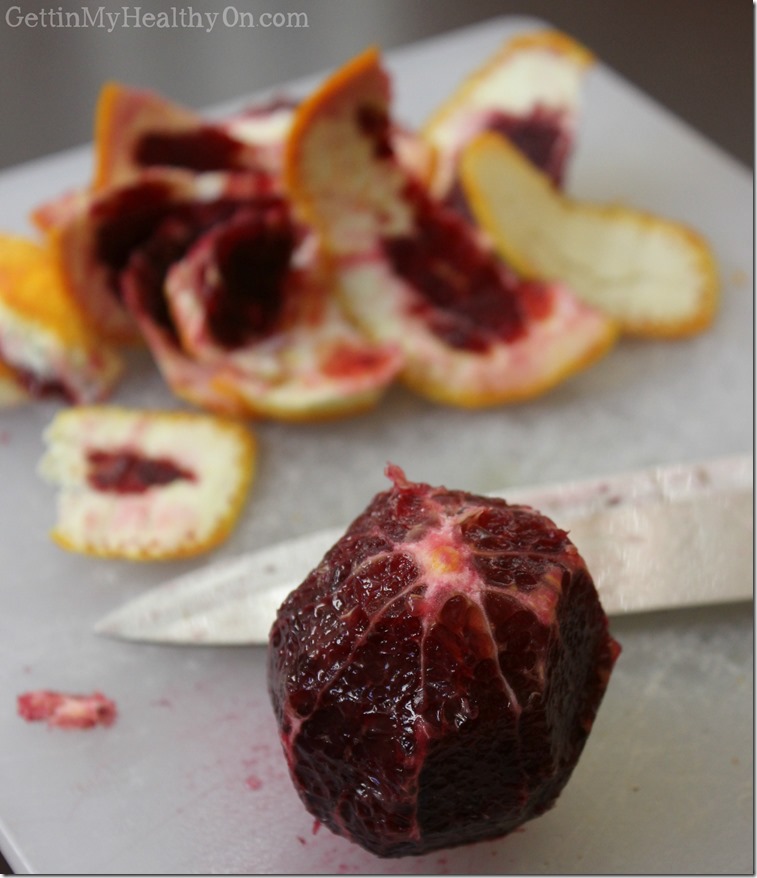 So for the actual base of the salad, I used mixed greens. But really, you could use whatever your heart desires. I strongly encourage you to use a blend that includes spinach and arugula though! They tasted amazing with the rest of the ingredients. Once you've laid a bed of greens, add 1-2 tablespoons chopped walnuts and 1 tablespoon crumbled feta. Now you're ready to top the salad with the orange slices you have on deck.
This is such a simple salad, guys. There are three toppings, plus the homemade vinaigrette. I loved how fresh this tasted, and I filled a mason jar with the ingredients for my lunch at work the next day. I felt oh-so-gourmet.
Blood Orange Walnut Feta Salad with Blood Orange Vinaigrette
Ingredients:
Blood Orange Vinaigrette:

Juice of 1 blood orange (about 1/4 cup)
Zest of 1 blood orange
1/4 cup olive oil
1 tsp honey
1/2 tsp Dijon mustard
1 Tbs apple cider vinegar
Salt and pepper to taste

Salad:

2 handfuls mixed greens
1 Tbs chopped walnuts
1 Tbs crumbled Feta cheese
1 blood orange, peeled and sliced
Instructions:
Mix together all vinaigrette ingredients, set aside.
On a plate or in a bowl, add mixed greens, then top with walnuts, Feta, and orange segments. Drizzle a little of the vinaigrette on top, and serve immediately.
Save leftover vinaigrette in an airtight container in the fridge.
Recipe from GettinMyHealthyOn.com
Hope you enjoy! If you want to learn more about California farming and ranching, make sure to visit cultivatecalifornia.com.
Have an amazing weekend!!
Do you visit the farmer's market(s) where you live?
What are your favorite toppings for salads?
I was selected for this opportunity as a member of Clever Girls and the content and opinions expressed here are all my own.