Want to know how to put yourself in a really good mood?
Throw some stuff in the crockpot in the morning, forget about it all day, and discover it later when dinner time approaches and you're dreading the preparation part.
This happened to me last night. When I got home from work, I opened the door and was greeted by the smell of dinner cooking in the crockpot. I totally forgot I threw this chicken recipe together before work. Best discovery ever.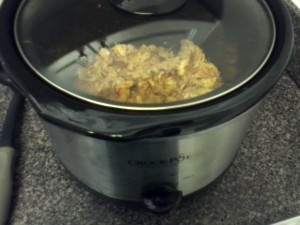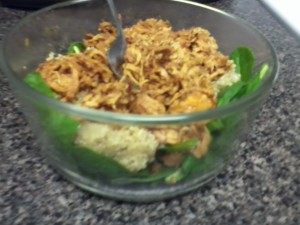 Twas a solid shredded chicken recipe. I just threw it on some leftover quinoa and spinach, while the boy made tacos. Yummy and healthy! Love when that happens, especially after eating a bunch of Starburst jellybeans and a cupcake. Not like I've been doing that everyday after work this week… I'm starting to think I should cut out sugar for a little while like Melissa has been doing. Hmm..perhaps after the candy is gone. 🙂
Anywho…
Regarding the whole fitness thing, I haven't been as cardio crazy as I was last week. I HAVE been working out just as consistently though. That guilt from missing a workout is reason enough for me to at least half-ass something, which I realize isn't the best mindset. I do what I can, people.
Workout
Yesterday was weird because I did a collection of workouts. My Feel the Burn Ab Circuit 2x, my Toned Arms and Shoulders 3x, my favorite plank workout 1x (my hip was really starting to hurt during this for some reason), and then Justin Timberlake came on my iTunes, so I decided to dance for like 5 min. Because why not? This workout session just reaffirmed my love for working my arms, preferably with dumbbells. No pushups please. They suck.
Today is another run around a track day, and I'm stoked. The idea of running in circles doesn't seem that exciting, but I actually kind of love running on a track. I'm sure it would be even better if I was doing sprints or something. Nah. I leave that to Matt as he trains for his race, which is 1 WEEK AWAY. Woa, buddy! Sucks for him…having to be all competitive and train hard and such. Lucky for me that I have an excuse to go to Vegas for a long weekend. 🙂
Now that you know about my surprise crockpot meal and exciting run planned for today, I will get to what you really came for — the giveaway!
Bestowed
I was contacted recently by the lovely people at Bestowed to see if I'd be interested in their box of food samples, and I responded with a "heck yes!" in approximately 2.5 seconds. Or…something like that. Basically, I was really excited about this.
Bestowed is a monthly subscription to a box of 5+ healthy and delicious samples. I really love this idea because I'm all about trying new healthy foods, but I tend to either 1. be afraid to commit to lots of one healthy thing (sometimes they're a bit funky) or 2. have no idea what fun food products are even out there.
Thanks to Bestowed, I receive this box of goodies in the mail:
Nature's Earthly Choice Easy Quinoa Lentil Soup, Happy Family – Happy Squeeze Smoothies: Pomegranate Blueberry & Pear, Manitoba Harvest Hemp Hearts, Oloves Hot Chilli Mama Olives, Artisana Coconut Butter, Nature's Bakery Fig Bars, iTrain
Love love love!
The quinoa soup was pretty good. Didn't seem very soupy, but it was a pretty good quinoa/lentil dish!
The squeeze smoothie was actually really good. The only problem was it wasn't 10x bigger.
Hemp hearts I plan to throw in yogurt, oatmeal, or something, but I keep forgetting about them. I've always wanted to try hemp seeds though, so yay!
Olives were a no-go. Don't like 'em, unfortunately. Anybody want them?
Coconut butter was frickin' awesome! Never had it before and dayum. I put it on banana bread I made recently. De-lish.
The fig bar was of course delicious. Tasted like Fig Newtons…but probably healthier.
And the $25 iTrain card I have yet to use because I still am working on my $50 one from Bulu Box.
Overall, I'm a huge fan of Bestowed. Lucky for you peeps, I have some of the fun to share!
Giveaway
The goods:
All readers will get $5 off their first month with this code: 5OFFBSTOWED01
One reader will win a

free

3-month subscription

to Bestowed, receiving 1 box each month of 5+samples picked out by the company's founder and nutritionist, Heather Bauer.
To get $5 off, check out their Join page and plug the code in.
To win a free 3-month subscription, do the following:
If the form doesn't work, try refreshing the page.
The giveaway ends on Thursday, April 11th. I'll reveal the winner next Friday!