Exactly a week ago, we were heading to Los Angeles for a busy weekend of marathon-related fun. It's hard to believe it's all over. I was asked to be part of the Team ASICS Challenge back in December, which Matt was also able to join, but due to ridiculous IT Band issues, I had to drop out of race training pretty early. As a result, I became a spectator as Matt went to run his first marathon! The weekend was filled with a lot of events, since we were ASICS VIPs, and hot damn, it was pretty amazing.
If you haven't already, make sure to check out my past posts leading up to the marathon:
Caution: You are about to start reading a hella long blog post recap. Mentally prepare.
After fighting a lot of disgusting LA traffic, we got to our hotel, and to our pleasant surprise, we had a room overlooking the Santa Monica shore. I was a wee bit sad that we didn't have more downtime just to hang out and enjoy our view!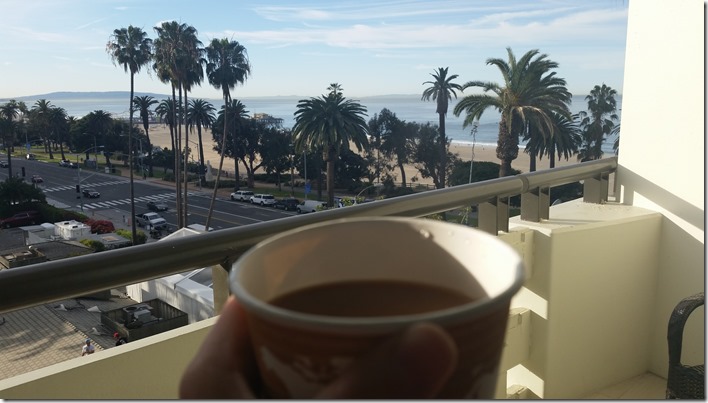 Soon after arriving at our destination, we had plans to stop at a happy hour with the ASICS team, which was followed by a ridiculous evening at the ASICS VIP party. After driving through West Hollywood and winding farther and farther up the hills, we arrived at our destination that was lit up in all sorts of colors. Apparently it was Marilyn Monroe's old house (Devoe House), so I thought that was really fun. When we got there, we picked up some swag bags, which included an ASICS blanket, LA Marathon 30th anniversary shoes (featured later in this post), and some colorful ASICS running socks. The whole place was filled with really cool running-themed decor – the below picture has just a few things that struck my fancy.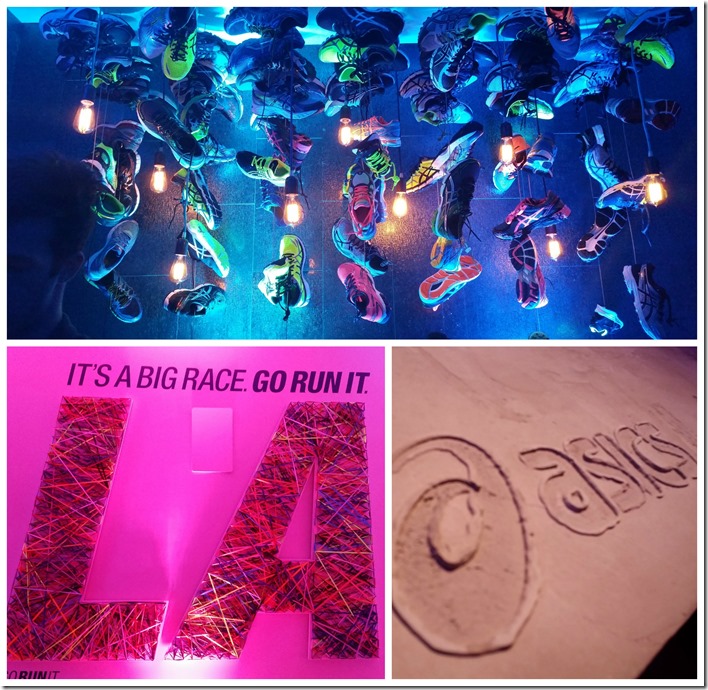 The house was in the most amazing location, overlooking the entire city, as you can see in the below panoramic picture that Matt took. The view was absolutely breathtaking – I really wish pictures could do a better job of doing it justice, but there's just no way.

The main event of the ASICS VIP Party was the lighting ceremony. This involved a series of spotlights (124 total) that illuminated each mile of the Stadium to Sea course. We got a few pictures, but it's extremely difficult to even see the lights in them, so I'm sparing you from the disappointment. Below is a picture of the people who spoke about/for ASICS' 30th anniversary and presented the lighting of the course.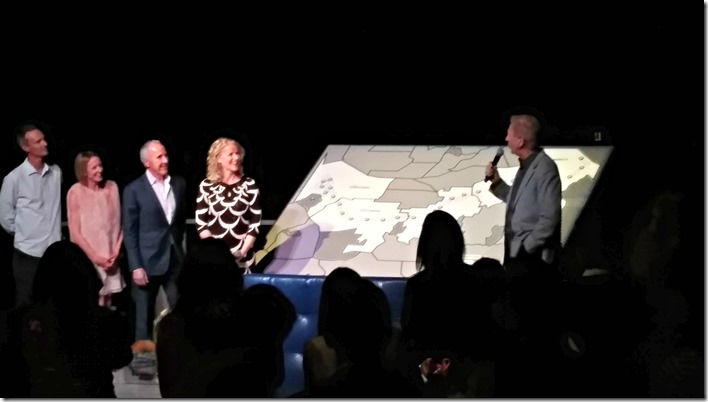 Even though we were exhausted by the time we even got to the party, it was all stunning and such a cool experience.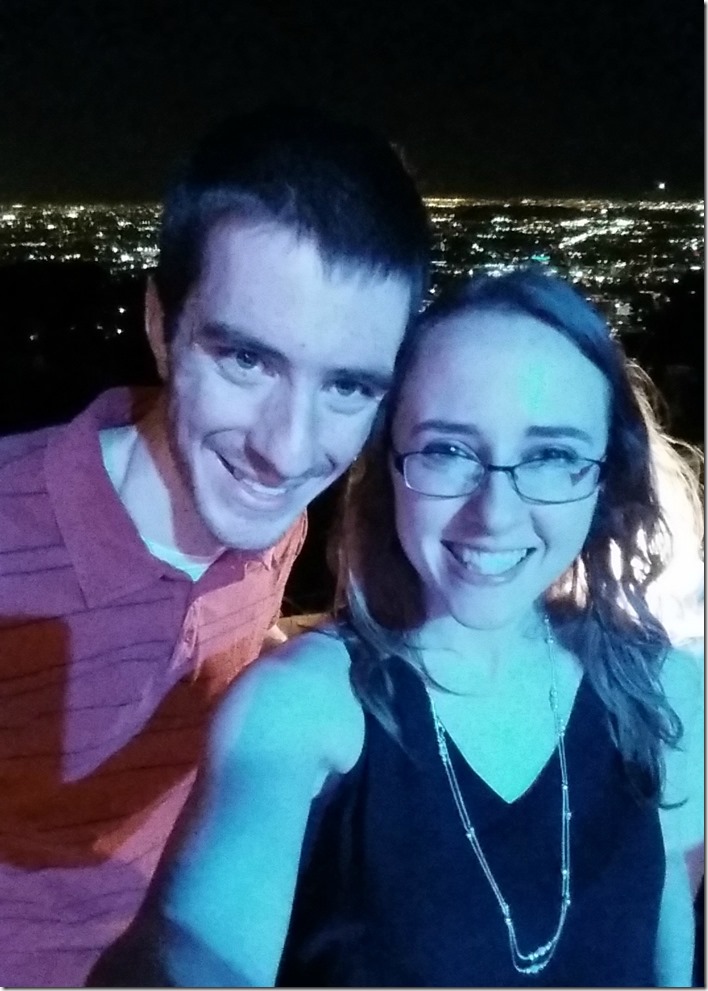 As I mentioned above, we were gifted the ASICS LA Marathon 30th Anniversary Shoes, and we're both pretty obsessed with them. They're unique keepsakes / I love running shoes / ASICS is awesome.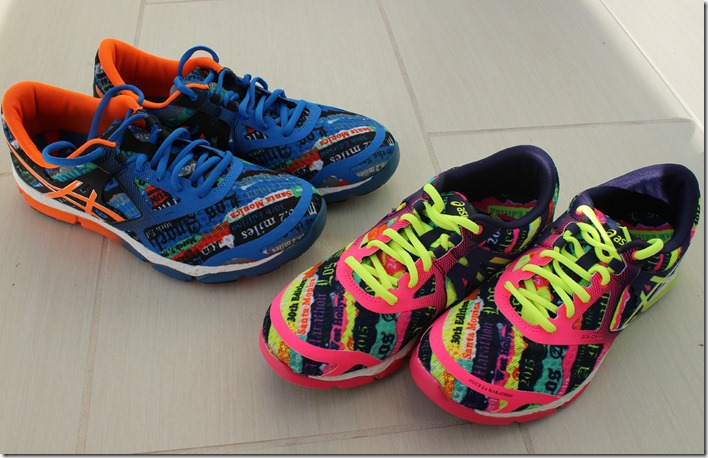 We were thrilled to get home that night and get some shuteye before getting up the next morning for a light, pre-race team run together. I didn't go, since I can't exactly run (even today, grr), but Matt made it out there and got to know some of the others. I met with them afterwards at the amazing coach's brunch put on at the hotel. This was so much more than a brunch though. There were a few Olympians (including a few sprinters and distance runner Ryan Hall) there who gave us all advice for the race, which was SO cool.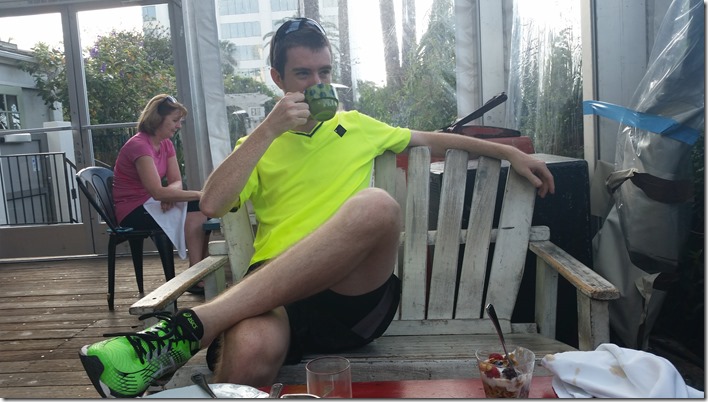 I jotted down some of the advice they offered, and here were some of my favorites:
Run the first 20 miles with your mind; run the last 6.2 with your heart.

Choose positivity and use a mantra – get rid of any negative thoughts that can come.

Be confident in all your training. You've done all the work; now just get excited to show it off.

Focus on the mile you're on, not how much you have to go.

It's just a long run with 25,000 new friends.

Throughout the race, you lose about 500 ft. going downhill, which is pretty much free miles, so really…the race is only like 1 1/2 miles. Basically, just sprint down the downhill portions, and you'll make great time. (At this point, our running coach had his hands on his head, shaking it with horror and telling us not to do that.)
Runners – they're an interesting breed. Bahaha.
After the brunch, we had a few hours off until we needed to head to the expo to get our bibs and explore the sponsors and other companies there. It was at the LA Convention Center (next to the Staples Center), and we just wandered for a little while until our group left (we were all anxious to hang out at the hotel and relax).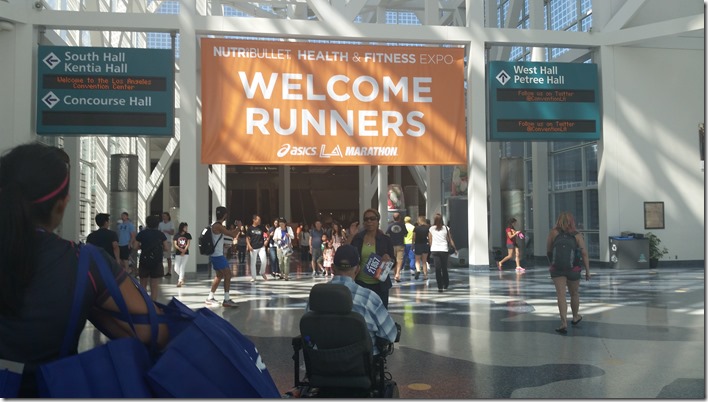 Saturday evening, we got back in our little team bus to go do some carbo loading! The traffic was, yet again, ridonculous, so we actually ended up jumping out of the bus and walking the last mile. Once we finally made it to the Italian restaurant C&O Trattoria, we all scarfed down garlic knots, salad, calamari, spaghetti, penne and veggies, salmon, and chicken…and then wine for the few of us who either 1. weren't running or 2. wanted wine despite being 12 hours away from a race. Haha.
After a decent "nap", my alarm went off at 4 am, signaling the start of marathon day!! We threw our stuff together, went down to the hotel lobby to meet the group, and jumped in the bus with the other VIP-ers, heading to Dodger's Stadium.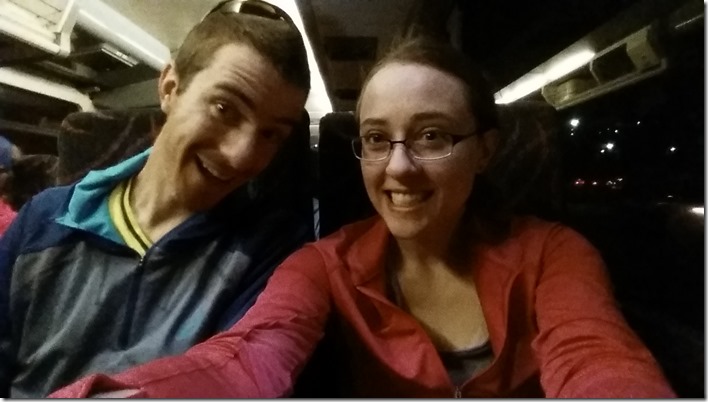 When we got there, we had the opportunity to grab a quick pre-race meal of bagels and such in a stadium suite. Before we knew it, Matt was being summoned to head to the start, while I went with the other ASICS people to a VIP viewing area near the starting line. There were a total of about 25 or 26,000 runners at the race, which definitely seemed accurate when we watched all the corrals take off. Apparently Matt saw me when he finally took off, but sadly, despite my intense watching, I could not find him in the sea of people.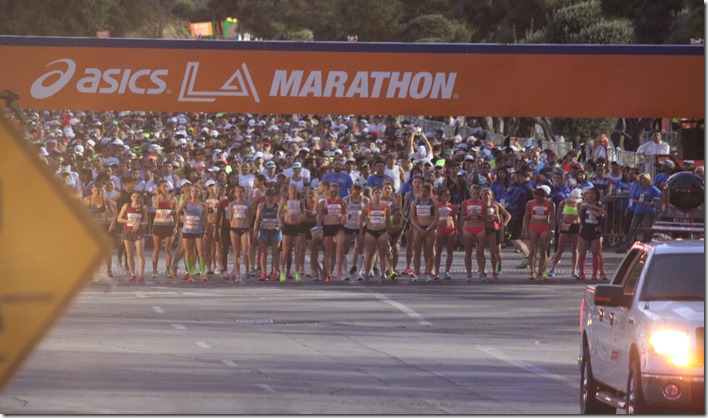 The race started a half hour earlier than originally scheduled because the temperature was supposed to near the 90s, so it was a safety precaution for the runners. Matt informed me that he read somewhere that 60 people ended up needing medical attention, 30 went to the hospital, and 1 went into cardiac arrest (Matt thinks he may have seen this dude on the ground being helped…eeeee). So hopefully all these people are well again. Matt said that he was able to stay in the shadows of buildings a lot of his run, which was great.
While he was running, I was hanging out in "The Bungalow" of the hotel we all stayed at, which was right next to the race's finish line in Santa Monica. So we were watching the race on the TV, and I was frequently checking my phone to see if Matt had passed the next tracking section.
Spoiler Alert: Matt finished and, more importantly, survived!! In his words immediately following the race, "Never again." Bahahaha.
We hung out for a little while after the race, grabbing food and drinks in our fancy VIP area (I apologize for the number of times I have said those three letters because it's obnoxious, but this entire weekend was obnoxious so there). Matt and I ended up leaving our hotel about 2:30 pm, even though it took WAYYYYYY longer to get out of that damn city. LA traffic…..I don't understand how people live there and deal with that on a regular basis. It was the worst thing EVER.
Anywho, we were so, so relieved to be back to San Diego that evening. We were both pooped (yes, I realize how terrible that is to say when he ran a marathon and I simply observed, but the whole weekend was exhausting for some reason).
So there's my little massive recap of our crazy ASICS-filled weekend!! I can't say enough about the brand and all the people who I've been in contact with over the last 4 months. I have never worked with such a generous, supportive company in my 2 1/2 years of blogging. They are truly an amazing group of people, and I feel so blessed to have been asked to be part of the ASICS team!!!
Make sure to check back Monday, when Matt will be making his blogging debut on Gettin' My Healthy On! He's going to share more specifics of the actual marathon and his thoughts surrounding the event.
If you've made it to this point, congratulations – you deserve an award for reading the longest post ever. Have a FREAKIN AWESOME weekend!!