If you were not already aware, my favorite athletic shoe brand is ASICS – just look at the picture below of my collection.
(And that's excluding a pair I just left in Chicago at my dad's house.)
Ever since my first race (half marathon) four years ago, I've been buying ASICS shoes, minus a pair here or there to try out different brands for fun. I always end up coming back to ASICS as my default though – I guess you could say I'm brand loyal. The ASICS gods just know my feet because I have the least amount of issues when I wear a pair of their shoes. Plus, there's a lot of fun colors, so that alone would keep me coming back.
Today, I will be sharing a review of a new pair of their shoes that I've been trying out – I wish I could say they were my most recent, but that's a lie because I have a problem and just got some new ASICS running shoes.
ASICS GEL-Fit Sana is a type of training shoe that is uber flexible to fit your feet. The stretchy mesh material gives a sock-like feel that I found quite comfortable, especially just walking around and running errands. While I don't always wear shoes when doing circuit workouts at home, these will be my new cross training shoes on the days I'm not running. I read some reviews of them before I got them, and a lot of people said you don't even need to wear socks with them. That's all fine and dandy – and I totally get why a lot of people don't – but I don't like wearing shoes without socks. But maybe that's just me. The option's there though. Just saying. Basically, they have a barefoot-like sensation so follow your heart and wear socks or don't.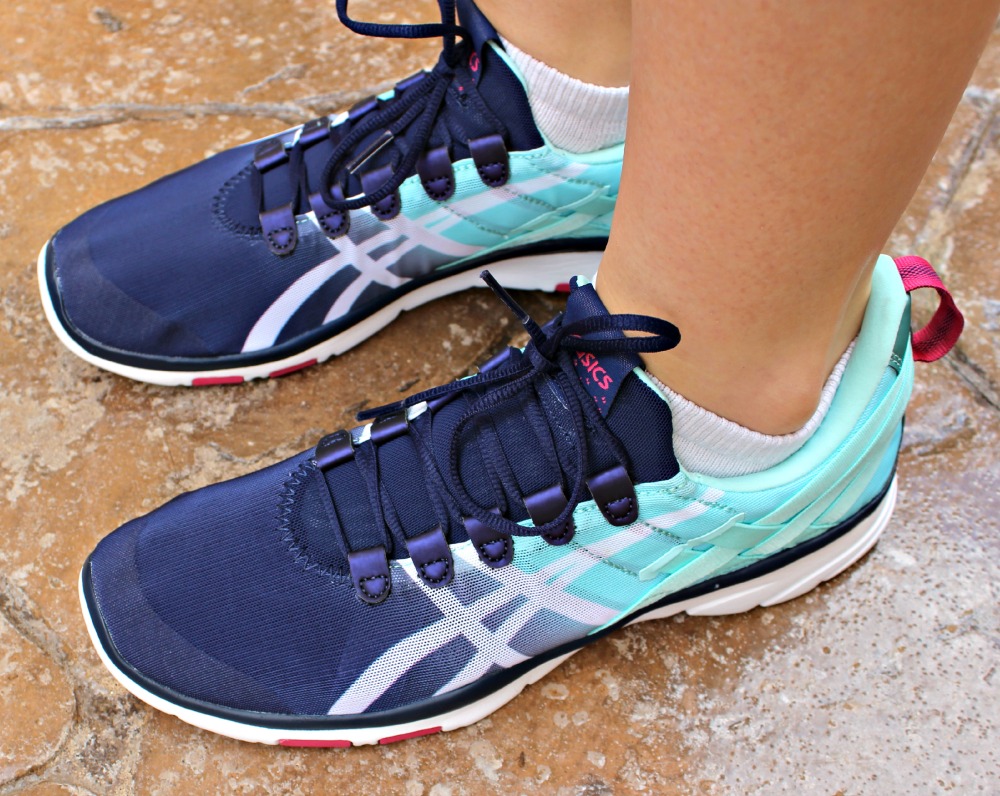 I've been slipping these bad boys on before going shopping or on other adventures because I feel like I should be kinder to my feet. I usually wear flip flops all the time (because I'm over here in San Diego and can do that sort of thing). These shoes are designed to absorb impact and hug your feet for a comfy performance shoe. I'll be using them more for their intended purpose (aka training) soon since I'm done traveling for the holidays (hallelujah!) and am ready to get back into the swing of [workout] things.
Overall, I'd say these shoes have the main characteristics I look for in a shoe:
Pretty with a variety of color options
Customized fit
Supportive build
Lightweight
Comfortable
Boom. There you go. ASICS GEL-Fit Sana shoes.
What's your favorite athletic/performance shoe brand?
Do you go for crazy colors? Or more subtle?
P.S. I have a BIG announcement on Friday that is actually related to this post, so make sure to come back! That's all. Have a lovely day.
This post is sponsored by FitFluential on behalf of ASICS.