Last night, Matt and I came across a serious dilemma…
Mac 'n' cheese on the pizza or on the side?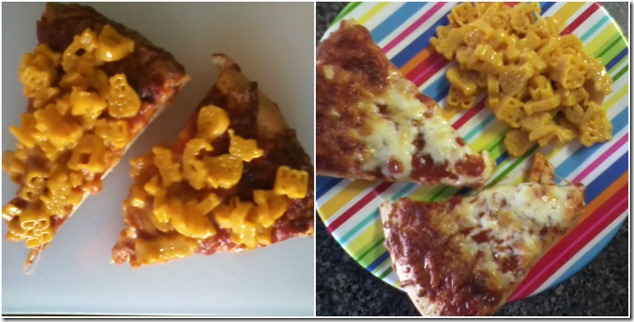 Kraft shapes were on sale for $0.89 yesterday, so I threw four boxes a box in the cart. Dinner was the usual lazy Sunday night frozen pizza. Matt decided he wanted some of Monster's Inc mac 'n' cheese shapes too, so I was down.
He put it ON his pizza. I had it on the side because they're both so good alone that I didn't want to blur the flavors together.
As you can imagine, it was a tasty dinner. Nothing like a little carbo-loading before…work? Or, maybe tomorrow's workout? Sure…
Workout
Saturday: Wasn't feelin' it, so it become a rest day (instead of Sunday, like I usually do).
Sunday: Dumbbell Circuit because it required no thinking—just doing.
Today: Probably will do my 45-Minute Speed Pyramid treadmill workout, while watching some trashy educational television.
Fun for the Week
This week should be a good one because…
It's a 4-day work week for me.
We're heading to Vegas on Friday morning for Matt's big relay race with his coworkers.
I'm being trained more in depth for my job, and I'm actually really excited. Feels good to learn things sometimes!
Questions for you:
Mac 'n' cheese on the pizza or on the side?
What days do you usually take for rest days? Or do you switch it up a lot?
I almost always do Sundays, just because it's nice to hang out, run errands, and do whatever else.
What are some of your easy go-to meals?
Besides pizza and mac 'n' cheese, we eat tacos and brinner a decent amount.