We spent our Sunday morning running the Aloha Run 5K, and it went by in a flash! That's probably because we're such fast runners though. (And by we, I mean Matt. He friggin won 3rd in his age group of 25-29. #rockstar)
It was the 2nd annual Aloha Run, and it seemed very well put together for how low key it felt (1328 runners). We had a lot of fun running at Mission Bay all dressed up in our coconut bras and grass skirts. When we first got there, not many people were dressed up. I was confused why people were looking at us extra long until I remembered we didn't exactly look normal. As more people arrived, we saw many more grass skirts and even some sea shell bras, so we fit in more as the morning progressed.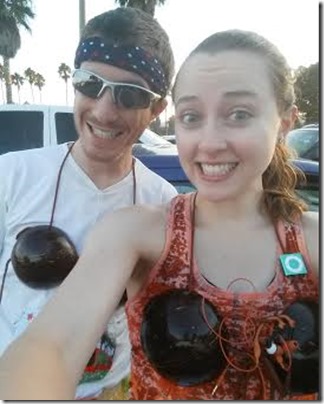 The course was just a down-and-back path along the bay, which worked fine for the 5K. Any race that I get to run next to the water I am all for.
Matt finished in 20:51 for an average pace of 6:43/mile. He was 23rd overall and 3rd in his age group (out of 47), which apparently earned him another award of sorts? Still waiting to hear about that. I finished a wee bit later. My total time was 25:40 for an average pace of 8:17/mile and finished 9th in my age group( out of 111 people). I'm quite happy with that.
Oh, and our hopes for the hula skirt moving on our medal kind of came true. It's really hard to move, but it's on a screw so if you try hard enough, it will shift.
After our wave was done (groups went at  7:30, 8, and 8:30), we hung out and got some ice cream, Gatorade, and other free randomness while we waited for some friends who ran the race too. There was some entertainment in the main area and even along the course, like music, a main band, a Polynesian fire dancer, hula dancers, and more.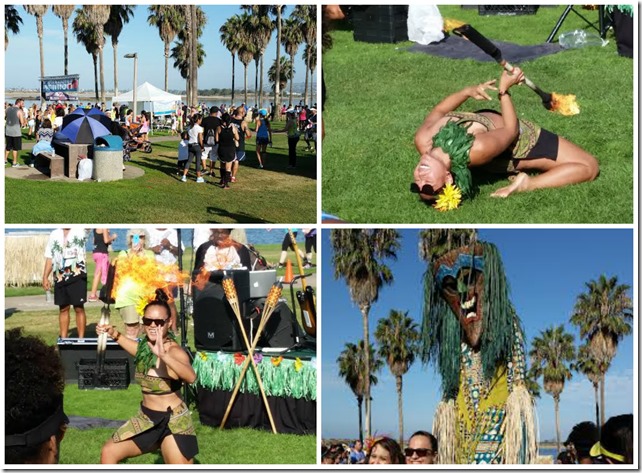 It was a fun morning, and we were back home by 9:30am, which was kind of awesome.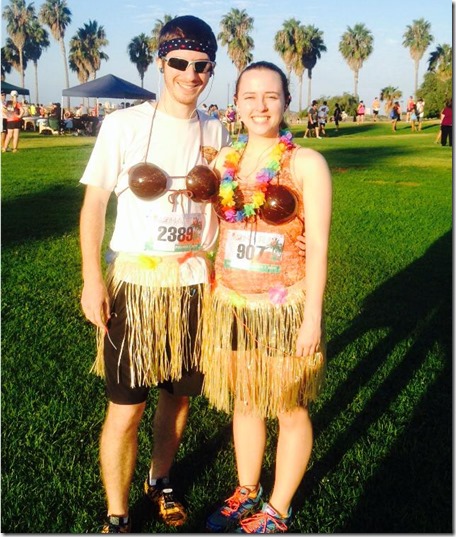 Questions for You:
Did you have a race this past weekend?
Ever wear a costume to a race? Do share.