If you weren't already aware, Sunday is Active Nation Day – a single day dedicated to women getting active to promote healthy living. The yearly event was created by Lorna Jane, who is an Aussie designer of women's fitness apparel. The essence of Lorna Jane and her brand goes way past workout clothes though: "When people wear Lorna Jane they are telling the world they want to be fitter, healthier and live a more inspirational life."
I admire the Lorna Jane brand because I identify so closely with it. Whether you like to go on walks or run ultra marathons, it's all about just getting out there and moving. I strive to fight my chronic laziness and squeeze in workouts several times a week because it makes me feel great, both physically and mentally. That is why I'm excited to join the global celebration of fit, healthy women on Active Nation Day.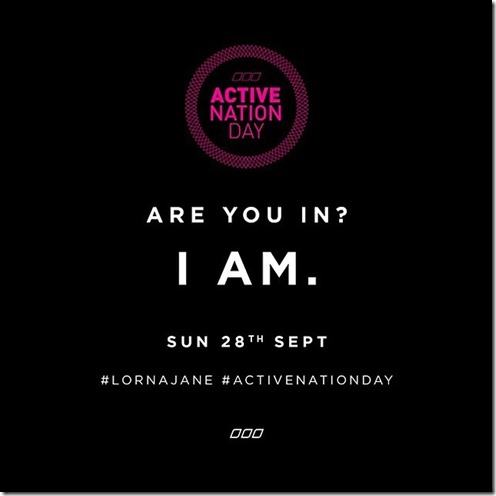 If you want to join me on Sunday by getting active, I highly encourage you to check out the Lorna Jane App! First of all, a woman with an Australian accent is talking and motivating you while you're on it – I think that's reason enough, but just in case it isn't, here's some more information:
Lorna Jane App
When you access the app, you have the option to Move, Nourish, and/or Believe – which all together makes the Lorna Jane Philosophy. I've provided some more details below:
You can download the app via AppStore and GOOGLEPLAY if you're interested. I know I've enjoyed exploring the Nourish tab and reading the inspirational quotes. My favorite part, however, is the tracking aspect – it's a great way to see where you're at. Plus, Lorna's voice pops up and sends you words of encouragement at the duration you pick, if you're into that.
#LJMove Competition
Another way you can get motivated is to enter the #LJMove Competition for the chance to win a $1000 Lorna Jane gift card! The contest entails sharing how you're getting active by incorporating the trademark #LJMove (see the video here) into your active day. All you have to do is…
Do the #LJMove
Document it via picture or video on Instagram, Twitter, or Facebook
Use the hashtags #LJMove #ActiveNationDay
Tag a friend (or several) to do the same
The winner will be chosen based on who has the most entertaining and creative photo/video, so use your imagination! The competition ends September 30th, 2014, and you can post more than once if you so desire.
So let's put some more umph into our Sunday by participating in Active Nation Day with Lorna Jane!
How will you get active?