Workouts
Monday: Dumbbell Circuit
Tuesday: Up & Down Treadmill Workout and 5 pushups for the 2nd round through my pushup challenge
Today: I was going to do a circuit workout, but I have an insane rash that keeps getting worse on my chest and shoulders from being in the sun on Sunday. My goal is just to get through work today. 🙁
---
Want to know what happens when you're blending a smoothie and take the lid off before the air bubble comes up?
This…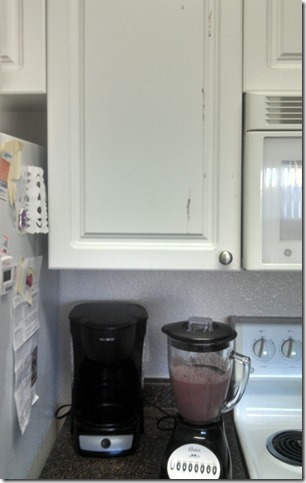 Smoothie waaaaay up the cabinets. It was a big face-palm moment for Matt. I make messes. A lot.
These Are a Few of My Favorite Things
Now check out what I consider cool findings from this past week!
Music Obsession: Ways to Go by Grouplove. This is my new favorite song. Pretty sure it would be an awesomely upbeat workout song too.
Food Substitute: Raisins vs. chocolate chips. Seriously. Life would be so much better.
Salad-Like Dish: Fresh Peach and Basil Salad. This isn't usually the type of "salad" I would go for, but we have peaches and basil. It looks too delicious not to try. Guess I just need some chevre now…whatever that is.
Place to Be: Rainy day. One of the biggest things I miss since moving from Chicago to San Diego is RAIN. I've come to love dreary days and miss hanging out inside with the sound of it hitting the roof. So peaceful.
Snack: Cinnamon Sugar Baked Apple Chips. After discovering the beauty of kale chips, I feel like turning other foods into crunchy not-so-junk food. Zucchini chips…apple chips..it all sounds good.
---

Hope you're all having a great week! Weird to think how August is half over…