When we first started P90X 2 1/2 months ago, I was determined to keep a clean diet that loosely followed each phase of the program. I usually eat pretty healthy meals, with some bad stuff here and there and everywhere, but something I've noticed that has really changed with my diet is snacking.
Before, I would tend to gravitate towards carb-rich foods that didn't keep me full for very long, which kind of defeats the whole point of snacking for me. To lower my delicious, somewhat high, intake of empty carbs everyday, I started packing snacks that were full of protein.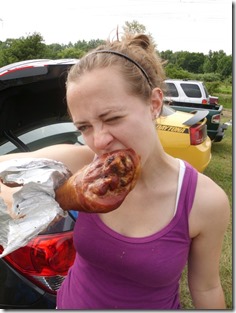 Once I started packing snacks that actually kept me full, everything changed. Plus, I just felt healthier because the protein-packed snacks I would grab or prepare were actually quite healthy, unlike the loads of pretzels, chips, and other fun I used to eat.
Since it can be way too easy to just grab the same thing every day, I figured I'd compile a list of some of my favorite protein-packed snacks. Mixing things up every once in awhile is crucial to keep the healthy eating thing going. Otherwise, you just hate your life, and food sucks. No bueno. I've been there. So here we go: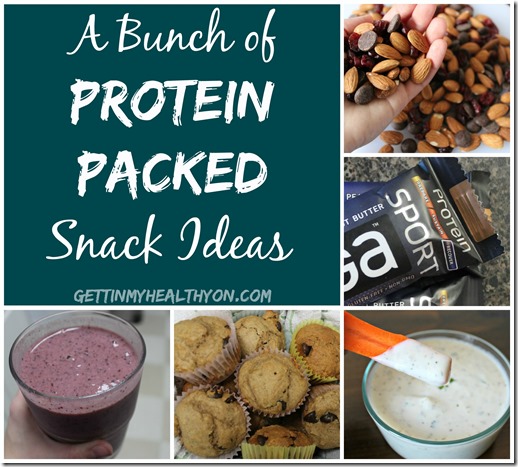 String cheese

– Aka the most underrated snack food ever.

Hard-boiled eggs

– My go-to "cut the crap" snack.

Banana and peanut butter

– A match made in heaven.

Protein bar

– I love these things too much and have to remind myself they're calorific.

Yogurt

– My favorite is with nuts and honey

and chocolate chips

on top.

Trail mix

– I'm quite partial to my Sweet & Simple Trail Mix.

Roasted chickpeas

– Because Roasted Cinnamon Sugar Chickpeas are strangely delicious.

Beef/turkey jerky –

Can't say I'm a fan of the turkey variety, but I'm obsessed with beef jerky.

Cereal and milk

– Breakfast, lunch, dinner, and for random snacks – cereal is always a good choice in my mind.

Granola bars

– But without all the bad ingredients. Love me some Nut & Seed Granola Bars.

Hummus and veggies

– I rarely eat hummus, unfortunately, but it's always a nice change of pace.

Celery and peanut butter

– Celery gives banana a run for its money – soooo good.

Cottage cheese

– I like mine sans fruit but whatever floats your boat.

Smoothie/protein shake

– I usually opt for smoothies as a meal, but I do like a Protein Spinach Smoothie post workout.

Muffins or bread

– If you do it right, this could be a great choice. Cough.Greek Yogurt Banana Bread.Cough.

Veggies and

Greek yogurt ranch

 

– Suspiciously tasty for being so healthy.
Boom. There's a bunch of protein you can eat to be healthier at snack time. Hope it helps!
What's your go-to snack?
Anything you want to add to my jumbled collection of ideas?
IT'S FRIDAY! Anyone doing anything exciting this weekend? We're going to my coworker's wedding, and I'm sooooo exciteddddd. Plus, I don't have to fly to get there, so that's a nice change of pace from all the other weddings I've been to this year.