Workouts
Yesterday: No Equipment Needed Core & Legs Circuit + 170 squats for my squats challenge
Today: 30 Minutes to Speed It Up treadmill run + 180 squats
---
I have a little something for you today in the form of hunky boy bands, strange girl groups, and terribly awesome pop music.
I've only ever featured one playlist on Gettin' My Healthy On (my marathon playlist), but I know I appreciate getting song ideas, so hopefully you'll get something out of this.
I used to just put all upbeat music on one playlist and listen to the same list constantly, gradually adding songs here or there. Well that got old. I've found that I enjoy having several playlists–one for every mood. Before I go out for a run, I just pick whatever playlist I'm most into. It's nice to have a variety of options.
My playlists are created through various themes. I don't have an unlimited supply of music, so sometimes I just have to work with what I've got. About a year or two ago, when I realized there was absolutely nothing I wanted to listen to in my iTunes, I figured…why not focus on a specific genre or artist? That way, when I'm in the mood for a specific type of music, I'll already have a group of similar songs ready.
Examples of playlists I've made in the past:
90's
Classic Rock
Hip Hop
Madonna and Britney Spears
Indie
80's
Justin Timberlake (hubba hubba)
Well today, I am starting with numero uno: 90's. I'm hoping to create more playlists in the future to share, but I had to start with 90's because it just makes me so happy. I've been listening to 90's Radio on Spotify all week, which is what has led to this post.
When listening to a 90's-themed playlist in the past, I always ended up smiling randomly because some songs are just so funny to me. Kind of makes me look like a lunatic in front of other people, but whatever–I'm entertained.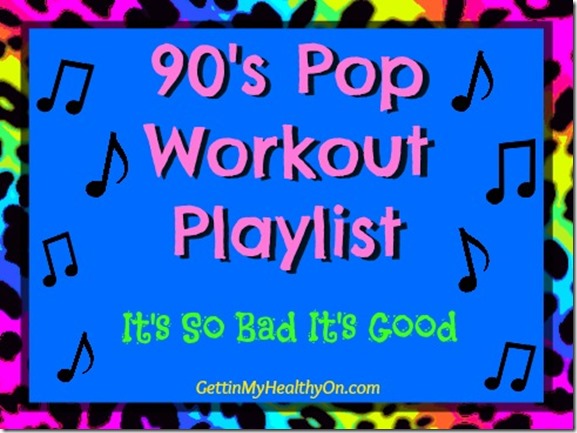 Below you will find the finalized 90's pop music playlist that will surely keep your workout interesting. The playlist runs a total of 1 hour and 33 minutes.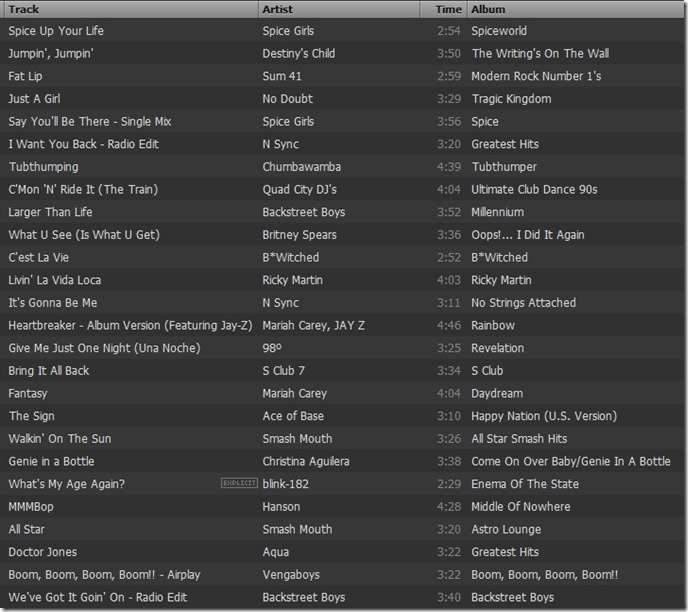 Of if you use Spotify, you can listen to the playlist in its entirety here:
You're welcome.
Have a great weekend!!
Questions for you:
If you listen to music when you workout, how do you keep from getting bored with it?
What is your favorite decade of music?
Did you know that LFO stands for Lyte Funkie Ones? I just learned this recently, and I feel like my life has been a lie until now.