Are you part of the Joints That Crack club?
Matt's the president, and I'm an active member. (Seriously, when Matt runs, his ankle clicks about every 5 seconds. It freaks me out.) Although it can be annoying, the popping joint sounds are actually a normal problem, but make sure to see a doctor if pain is consistently felt with the cracking and popping. (I learned this by writing excessively for orthopaedic surgeons in my job.)
Whether you have pained joints or not right now, there's a good chance you'll experience problems at some point in your life. (Hey, I never said this was the most positive blog.) Therefore, I think it's a great idea for everyone to start practicing joint kindness. Sure, if you need to give your joints a pep talk prior to a run, go for it, but I'm talking about practical actions/activities you can start to incorporate into your day-to-day living to help preserve your good joint health.
Check out the list I've compiled of how you can be proactive in helping your joints out for the future.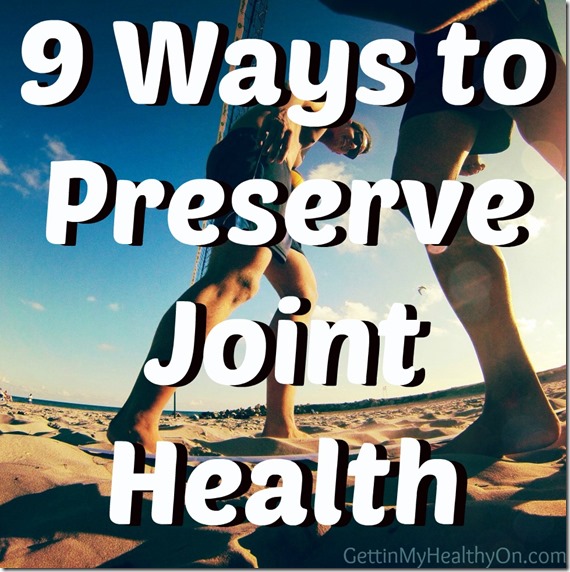 Build muscle.
Go pump some iron for your joints. Doing this can help take away some of the pressure on your joints. Example 1: stronger thigh muscles can reduce pressure on knees. Example 2: a stronger core can help correct poor posture and reduce back pain.
By stretching out your muscles, especially after workouts, you can help maintain a healthy range of motion and promote a healthy amount of fluid to lubricated your joints.
Practice good posture.
Do as I say, not as I do. I'm a master sloucher, and I'm not proud of it. (I'm actually slouching at the moment. Oops.) When you work on maintaining good posture, you can help prevent unnecessary strain on other muscles and joints, like your neck.
Avoid overuse.
Sports like running are all fine and dandy until you break yourself. Overusing muscles and joints can lead to more serious injuries, which is why if you're having sudden joint pain, consider resting a bit more than usual to recover. Personally, I like to do my Low Impact Body Circuit when I'm feeling especially achy. You could also go swimming or biking for a lower impact workout. Interesting fact: I mentioned recently that I've been having wrist problems; I actually have a ganglion cyst on my left wrist that I recently had treated, and these have been thought to result from subclinical injury or overuse. Good times.
Wear a brace if you have a problem joint.
Braces can be great when you're recovering from an injury or if you have chronic joint problems, like arthritis or carpal tunnel, that flare up with use. Don't be afraid to get some extra support if you're having strange issues!
Ice your joints.
Take some advice from Vanilla Ice, and Ice Ice [your joints when they're sore because they need some extra TLC once in awhile]. Decrease that inflammation. Word to ya mother.
Use larger joints rather than smaller .
I found this concept interesting. They say it's better to favor your larger joints, rather than smaller ones because the smaller ones are more vulnerable to injury. An example of this would be lifting with legs (not your back) or using your forearms (not hands) to carry groceries.
Maintain a healthy weight.
If you're carrying around extra weight, this puts a great deal of stress on the joints. If you suffer from a lot of joint pain and issues, try to eat cleaner and incorporate more physical activity throughout the day to help lessen the impact on your joints.
Take supplements.
There are several products out there that have been said to help with joint pain and cartilage depletion. Glucosamine, for example, naturally occurs in your cartilage and is available in pill form to help your joints out (Matt actually takes this). Another option: collagen supplements. I recently tried out a sort of collagen supplement and have posted my review below. Keep reading if you're curious!
NeoCell Collagen Sport Protein Powder Review
I'm starting to consider myself somewhat of a protein powder connoisseur. Although I don't consume it on a regular basis, I'm more than happy to refuel with some chocolatey protein goodness. I've reviewed several different brands (i.e. Casein Protein, PlantFusion, and Platinum Tri-Cell Casein), but when I was contacted by NeoCell , there was something special that intrigued me.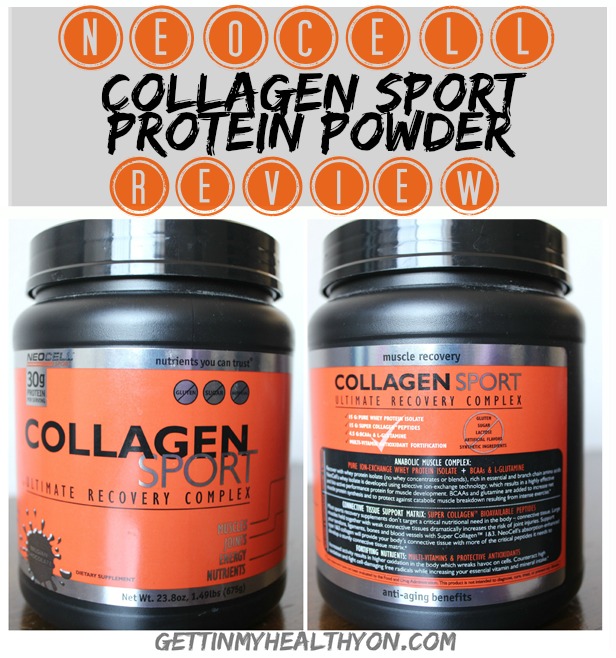 Their Collagen Sport protein powder is aimed towards athletes with its special formula that includes collagen. If you aren't aware, collagen is the major protein found in your skin, bones, ligaments, and even blood vessels. As we age, this gradually depletes, leading to wrinkly skin, achy joints, and so on. While most protein powders focus on helping your muscles recover, Collagen Sport was designed to aid your muscles as well as help your joints, helping prevent pain and injury. Besides its collagen-tastic formula, it contains amino acids and whey protein.
Here's some basics about the powder:
Has 30g of protein in each scoop
No artificial ingredients
Naturally sweetened with xylitol
Contains no lactose or gluten, making it a great option for people with strict dietary needs
What I Loved
I think my most favorite characteristic of the chocolate protein powder was its lack of sugar. It seems like a lot of protein powders on the market are packed with sugar (and I get enough of that in my daily candy intake). The lack of added sugar made this much more pleasant to drink because it wasn't overly sweet.
What I Didn't Love
I added the protein powder to regular milk because, like every other protein powder I've had, I didn't really like the flavor in water or almond milk – I thought it was great in milk though. Also, I noticed when I finished the protein shakes there was some sediment at the bottom of my cup that I didn't particularly enjoy.
---
All in all, I really enjoyed refueling after my workouts with this collagen-boosting protein powder. My favorite way to drink it was to add a little bit of coffee to the shake. Hellooooo protein-packed mocha-y drink. Matt really enjoyed the product as well, mainly because his joints aren't particularly the best after years of being a competitive runner in school and recreational soccer playing. I'd highly recommend this if you're looking to go the extra mile in protecting your joints!
Learn more about NeoCell and their many product offers.
Disclaimer: I was sent the NeoCell Collagen Sport protein powder for free to review. All opinions are my own.