Yesterday: Feel the Burn Ab Circuit and Lean Legs Circuit bright and early at 5:30am!
Tonight: Most likely a treadmill workout because it's faster than running outside, and I'm ready to get this weekend started! Oh, and 26 pushups for my pushup challenge.
---
Happy Friday!!!! I'm oh-so-happy to enjoy a laid-back weekend and spend some quality time with the boy. Plans? Halloween shopping to acquire parts to our planned costumes. We (aka I) plan to get some decorations to make our little home feel like fall-y as well. Wish me luck! I've had little luck so far.
I have something exciting to share for today's post, and it goes something like this…
My 30-Day Plank Challenge
Once upon a time, I created a 30/30 Pushup Challenge, where I worked up to doing 30 pushups with stellar form in 30 days. I'm almost finished with my second time through it (check out my pushup challenge review). I've enjoyed having a goal that is gradually worked up to over 30 days. It's not as intimidating. Some days it sucks. Some days I don't care.
Today, I choose to start a new challenge, working a new area of the body—the core. Planks are kind of awesome, and you work so many areas of your body with such a simple exercise (same goes with pushups). Check out my 30-day challenge I've created to get up to a 3-minute plank.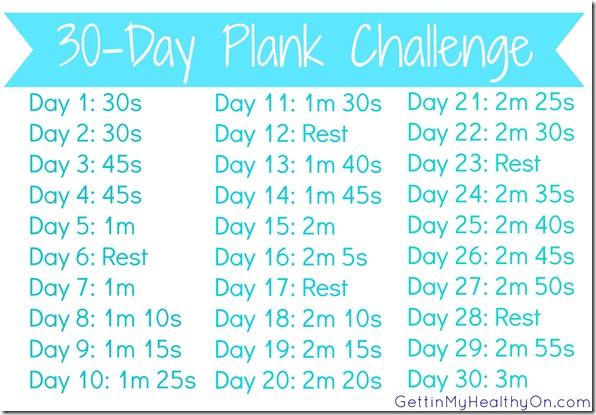 I know right now I can do a one-minute plank just fine—it's hard, but it's doable. I've decided to start the challenge off with a 30-second plank because, like the pushup challenge, I want to have crazy awesome / perfect form. Aka, I'm going to imitate a board for around 30 seconds to 3 minutes every day.
Feel free to participate with me! I'd love to hear your thoughts on the challenge as well.
**Edited to add: Check out my recap here!
What is the longest plank you've ever done?
Where is a good place to find fall decorations? I need help.