As I'm getting my body back into shape to hopefully be able to run again without knee/IT band pain, I'm focusing on a few muscle groups specifically–like my glutes, hamstrings, and quads. I feel pretty confident that I have some muscle imbalances that are hurting my psuedo-injury recovery, so I'm trying to step up my game by working on these different areas. Over the next 30 days, in particular, I'll be working on my arse butt bottom backend gluteus maximus …booty.
We're talking a butt workout, people.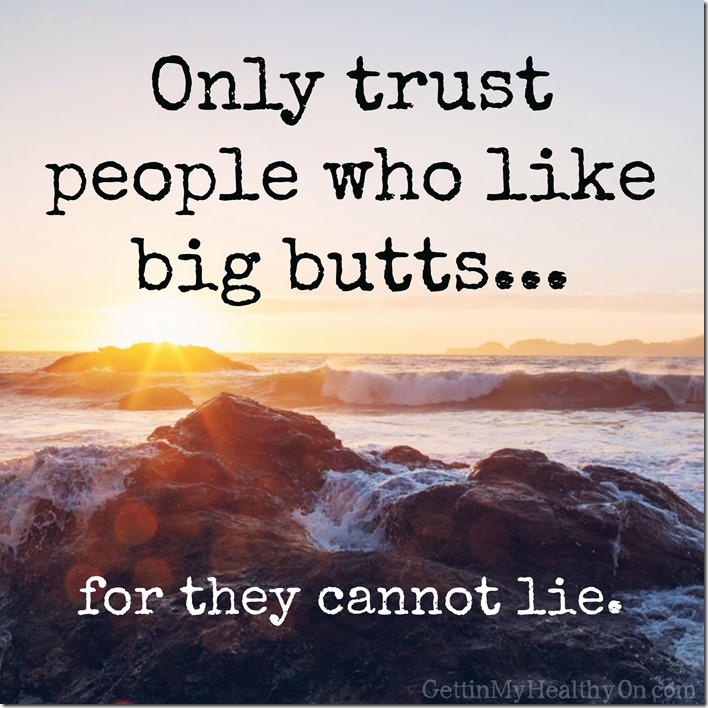 I put together a 30-day butt booty challenge, and I'd love for you to join in on the muscle-burning fun! When thinking of my "favorite" exercises that target the glutes, three stuck out in my mind:
Squats
Bridges
Donkey Kicks
I assume you all know what squats are, but if you're not sure about the others, I found a couple demonstration videos online that might help—bridge demo here and a donkey kick one here.
So for the next month, I'll be doing a set of all three of these exercises each day (aside from the rest days mixed in). And just for clarification, when I say "5 Donkey Kicks," I mean do 5 for each leg (for a total of 10). If you're more beginner or advanced than this, please don't hesitate to alter the numbers. This is simply where I want to start and end over the next month based on my fitness level.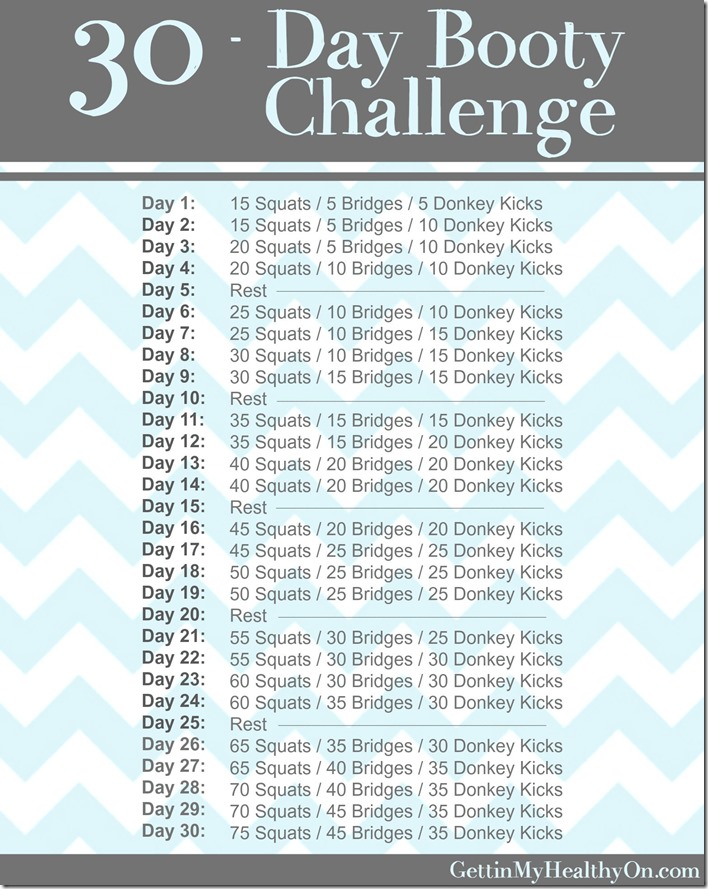 I plan to start Monday! Who's going to join???
FYI: It was really difficult not to put 5,000 puns into this post.
Make sure to check out some of my past workout challenges:
This post has been part of Fitness Friday (hosted by Jill Conyers), Fit & Fashionable Friday (hosted by Fitful Focus), and Food & Fitness Friday (hosted by Jebbica's World and Daily Momtivity) linkups.