Happy Halloween Weekend!!! Even though the holiday isn't officially until Monday, I wanted to give a shout-out to All Hallow's Eve since we'll be celebrating it this weekend.
As I've said in the past, I love all holidays—I'll take any excuse to celebrate. There's just something extra fun about this one though. You get to dress up (and more importantly, see the most adorable children and dog costumes), eat sweet treats, watch scary movies, carve pumpkins, and maybe even attend a festive party. What's not to love?!
So this weekend, while we turn into masked beings and get our fill of festive goodies, let's make a pact to not completely sabotage our health goals. I mean, you can if you want. But I'd prefer to survive Halloween without gaining 500 pounds.
If you're in the same boat as me, I've got some tricks to help you avoid those treats (or at least limit them) so you can have fun but not be reckless with your sugar-intake (which sounds more fun; I'm not going to lie).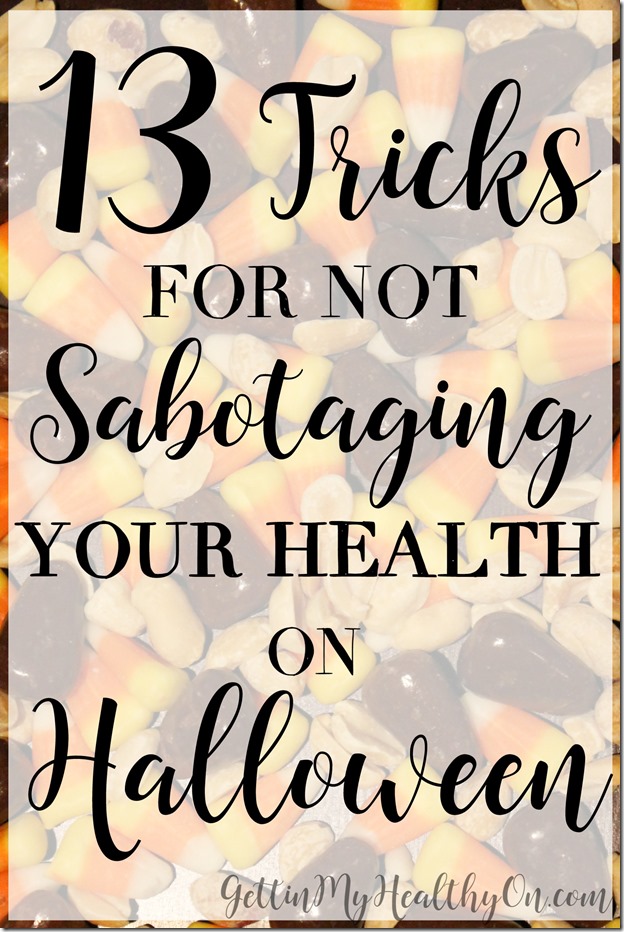 1. Buy candy you don't like. If you'll have trick-or-treaters, stock up on treats that you don't even want to eat. We did that this year because I don't want the sugary temptation. (I'm lookin' at you, Reese's Cups.)
2. Eat extra healthy to make room for indulgences. It's Halloween—let's be realistic here. Even if we have mastered the art of self-control, it's fun to eat a treat here or there. Make room for a little festive [and possibly unhealthy] food by keeping the rest of your diet in check.
3. Buy candy as last minute as possible. If you're planning to buy candy for trick-or-treaters, embrace your inner procrastinator. Buy the goods as late as possible to avoid it sitting there calling to you for days.
4. Get a tight costume. Okay, I'm all about making a scene with ridiculous, large costumes (i.e. my dinosaur suit as well as my work costume this year mwahaha), but for some people, it may be extra motivating to stay on track with working out and avoiding treats if they have a form-fitting costume on deck for Halloween.
5. Be D.D. at the party. For those who are going to a Halloween party, and really want to limit the sugar and calories that come with alcohol, just set yourself up for success by being the designated driver. That's actually what I'm doing this weekend. But please don't pretend like you're going to be the D.D. if you don't have the self-control to be smart and avoid alcohol!
6. Coordinate a workout with friends. Friends don't let friends bail on a workout (or maybe yours encourage you to; I don't know your life.) I signed up for a workout class this weekend with some friends, and although I'm not overly stoked about the early morning commitment, I know it'll be much-needed motivation!
7. B.Y.O.B. If you'll be drinking at someone else's house, try bringing your own alcohol for better control of what you're consuming. For me personally, I'm all about the vodka-soda-lime bevvies because 1. lime is the best and 2. it's relatively low in calories and sugar compared to other cocktails. 
8. Pass out non-candy treats. If you do it right, the trick-or-treaters might not boycott your house in the future. You could pass out glowsticks, temporary tattoos, small bags of pretzels, sugarless gum, raisins, etc. Worse comes to worse, you'll have a stack of leftover temporary tattoos instead of a massive stash of candy.
9. Only eat treats you REALLY want. I've been guilty in the past of eating junk just because I was craving chocolate, and although it wasn't my 1st, 2nd, or even 3rd choice, I ate it anyways. Prioritize your indulgences! Don't eat the crap if you don't really care that much about it. 
10. Walk with your kids (or friends) instead of driving them. If you have kids or family who will be participating in trick-or-treating, join them on the journey! So many people drive these days, but walking helps us burn off some of those treats. 😉
11. Make sure you get a good night's sleep. I said it in my healthy habits for lazy people post, and I'll say it again: get more sleep. It can be tempting to stay out until the sun comes to turn the Sanderson Sisters into stone, but sleep deprivation can lead to increased appetite. And if candy's what's around you, then it's just not good. Get some sleep this weekend, kids. 
12. Take leftover candy to work. This is our plan to keep ourselves honest. I swear, anything you bring to the workplace just magically disappears. Candy is definitely not an exception. (RIP candy I didn't really want to eat but would have eaten out of desperation.)
13. Move on once Halloween is past. The time surrounding Halloween tends to be indulging—not just October 31st. Once the holiday is over, let it be part of the past. Don't dwell in the treat yo'self mindset because it could be a slippery slope to developing a sugar addiction and destroying your once rock-solid self-control.
And that rounds out the unlucky 13! Despite all of these tips, I just want to emphasize that you can totally embrace the Halloween spirit and have some treats without destroying your health goals! It's all about dat moderation.
You can do it!
Are you dressing up for Halloween?
How do you keep yourself from inhaling #AllTheCandy?