Working at a desk day in and day out can really wear on you after awhile—mentally and physically. I've been living the office job life for about five years, and although I enjoy the opportunity to slouch for hours while being productive, I also know it's not doing myself any favors.
As I become more experienced at this sitting-at-a-desk thing, I've found that certain acts make my workday so much more pleasant. From getting my body moving a bit, to stimulating my mind during short breaks, it's pretty impressive how much small changes can make a difference in how you feel at work.
Whether you want to be more productive, boost your mood, refresh your fried brain, avoid a sore back, or loosen up an overall stiff body—check out some of my go-to ways of improving my mind and body as I navigate through the daily grind.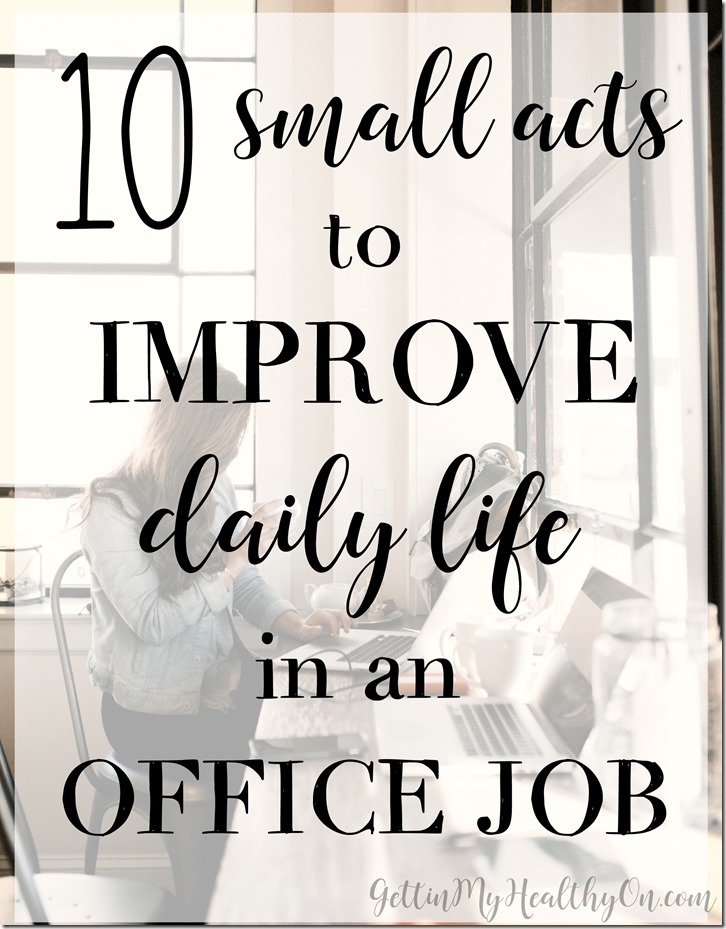 1. Go on a walk at lunch. I haven't done this in awhile (#ashamed), but it's such a good way to split up the day. Instead of surfing the Internet, unplug for a little bit and get outside. (And if you have a long lunch break, try to squeeze in a workout so I can live vicariously through you!)
2. Take stretching breaks throughout the day. Whether you're doing a full-on mini yoga session, or you're just doing some range of motion stretches in your chair, stretching feels so right when you aren't exactly moving much. I'm always stretching my arms, shoulders, and neck, but I'm trying to do even more because my body gets so stiff!
3. Do a few short sets of simple exercises to get the blood flowing. I'm talking squats, bicycles, pushups, etc. When you're sitting and staring at a screen for hours on end, exerting your body can feel surprisingly good!
4. Get ergonomic office equipment. I have a few things here or there, but nothing too fancy. I know ergonomic items are a huge help for some people though. Whether you DIY your own (I like putting a small pillow behind my back), or you buy a special mouse or mat for standing on, don't suffer if there's a simple solution to help!
5. Go for a quick stroll around the office or building. If you can't get out for a long lunch walk, try to take short little walking breaks, even just around the office. (Or, if you drink a gallon of water every day like me, you have no choice but to take frequent walks to the bathroom!)
6. Give your eyes a break from the screen every 20 minutes. While going on that midday stroll…you're also giving your eyes a break from the harsh computer monitor light. It is recommended to do this at least once every 20 minutes (which I know most of us aren't the best at).
7. Listen to music you love if you're frustrated. When I'm having a particularly challenging day at work, listening to a song or two that I love can completely makeover my mood and get me ready to tackle the work situation(s) bringing me down. If you can spare a couple minutes, I highly recommend it!
8. Always keep nutritious snacks on hand. Whether you bring them in every day like I do, or keep your desk stocked with good snacks, making sure you're always prepared and won't get cranky from a lack of food is a LIFE-saver, particularly for your mood and productivity.
9. Look at motivational quotes if you need a boost of inspiration. We've all had those days when we're feeling abnormally sluggish and bored. It happens; it doesn't define your work ethic. When I need a quick boost of inspiration, especially early-morning, I like to pay my Pinterest a quick visit to browse through motivational quotes I've saved in the past. It completely revives my spirit!
10. Block out the world by listening to instrumental music or nature sounds. If you can concentrate on work while listening to music with words, then I am extremely jealous. If you're like me and need complete quiet, and cannot get that due to phone calls or talkative people nearby, I find that instrumental music can help me block out the noise and focus. (Rain is my #1 method of drowning out (ha, get it?) loud noises that keep breaking my concentration.)
Do you work at a desk job? What acts help you get through particularly trying days?